As the outlook for the market environment is uncertain due to the prevalence of COVID-19, We have revised the Medium-Term Management Plan announced in August 2019 and decided to temporarily stop the "Period Targets". We plan to announce the "Period Targets" during this term (Fiscal year ending June 2021).
*Reference: Medium-Term Management Plan announced on August 9, 2019
Concept of New Mid-term Plan
Beyond now to the NEXT
Our mission
Creating chances for
individuals to take next step.
Drive the growth of IT field in the Engineering segment
Concepts of Engineers

Challenge to new technologies
reate opportunities in diversity

and work-style changes
Enhance engineers value
Improve shareholder value
Reasons for Update of
Mid-term Plan
Our previous Mid-term Plan
growth strategy aim to achieve a higher growth rate and to establish a better profit structure model than competitors in order to promptly gain a superior position in the market.

succeeded in expansion and
development of our business portfolio
This Mid-term Plan
Against the backdrop of current global economic uncertainty and political instability, our new Mid-term Plan not only aims to achieve the growth rate but also focuses on a sustainable growth strategy based on the current business portfolio.
Strategies and Policies by Business Segment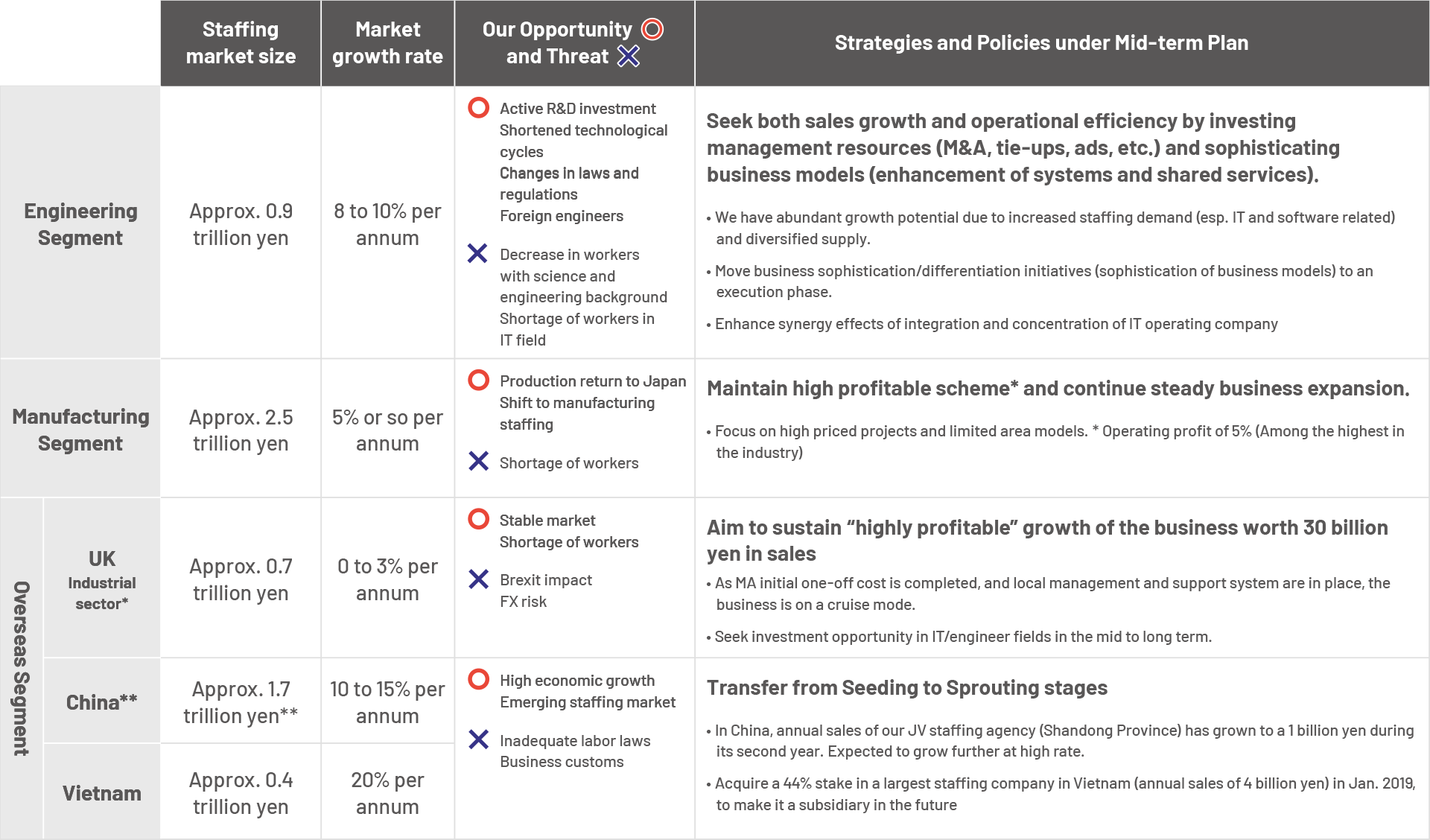 New Mid-term Plan
(starting from FY2020)
Achieve EBITDA* of 10 billion yen in FY 2022
(CAGR: about 15%)
Drive the growth of mainstay Engineering segment and achieve a YoY double-digit growth in net sales and EBITDA.
(Double-digit growth of sales and EBITDA)
Sustainable increase in shareholder valu
(In addition to conventional dividend payouts, consider stock buy-backs aiming to grow EPS)
* EBITDA: Operating profit + goodwill amortization + depreciation cost + temporary buyout expenses (Same as EDITDA in presentations of our financial results)
1

EBITDA reaching ¥10 billion in FY2022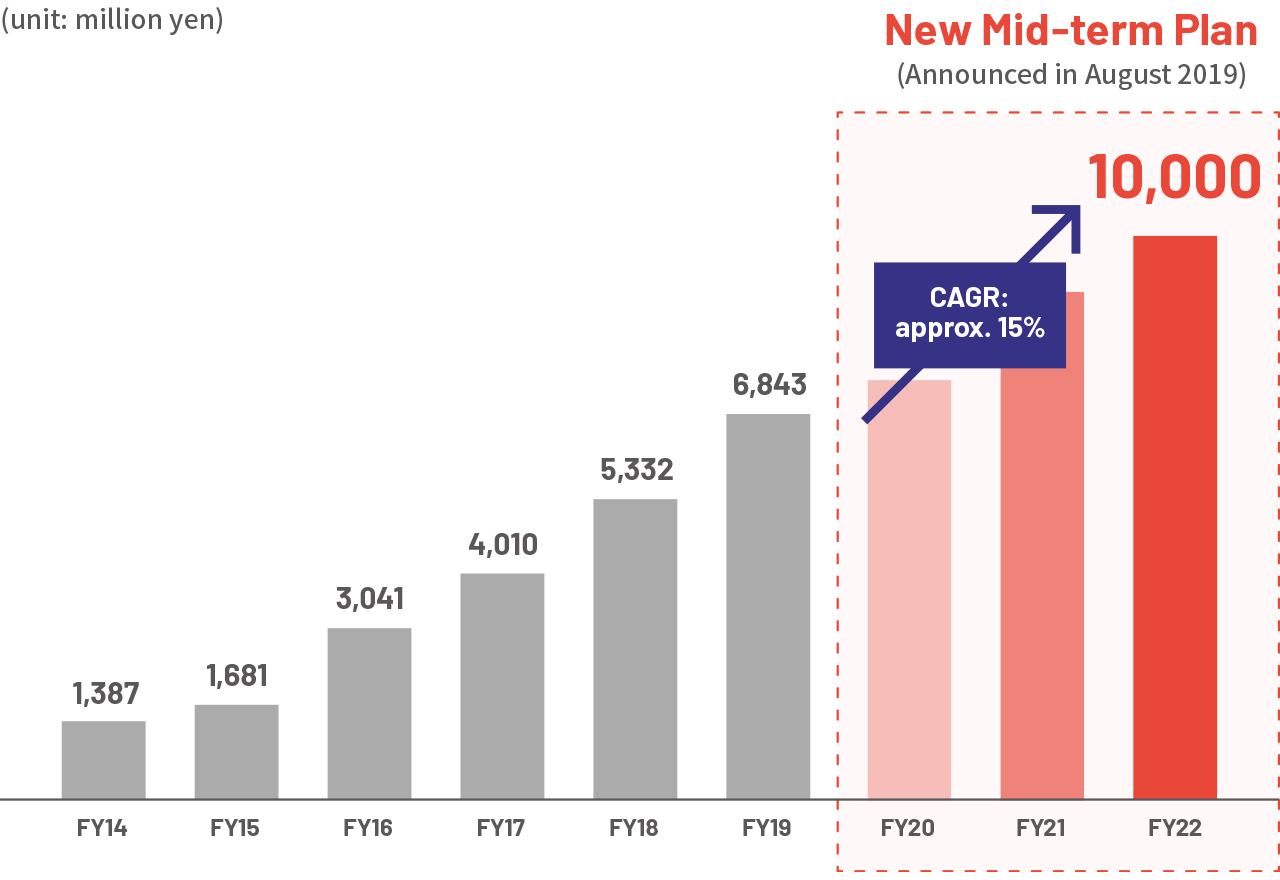 EBITDA target
For each business segment, aim to improve profitability by 1 point.
For Overseas segment, aim to strengthen EBITDA by increasing net sales by 5% (in local currencies).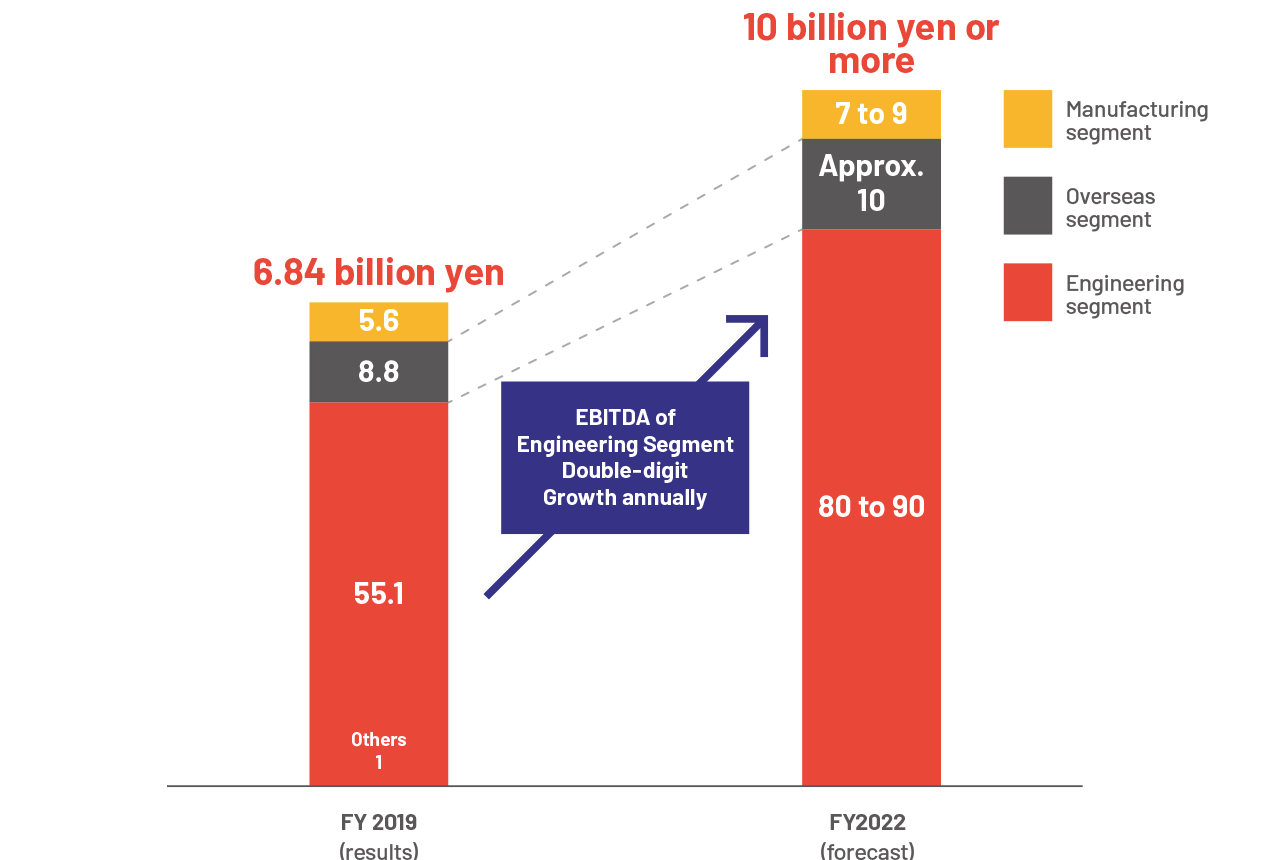 2

Further growth of the core Engineering field
Expansion of Engineering segment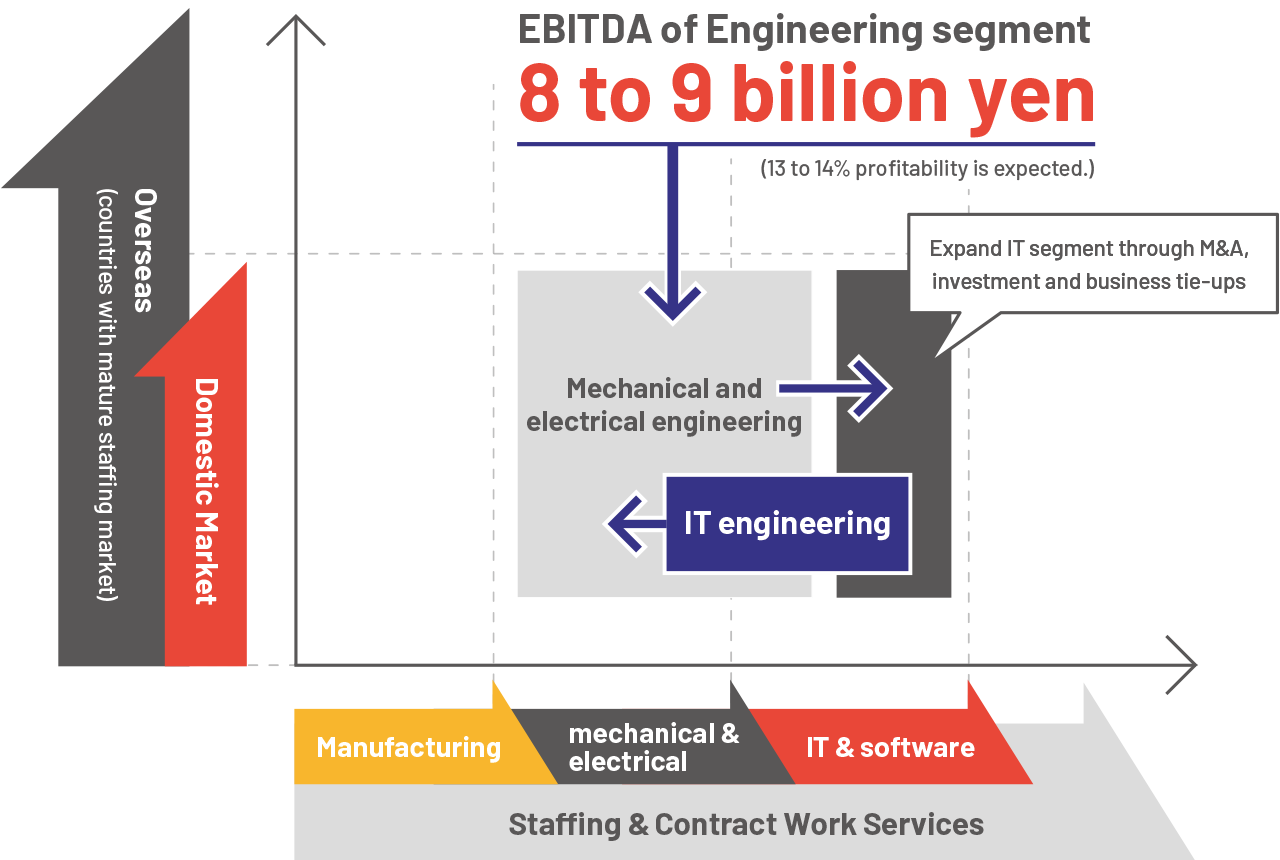 Our strength and achievements
Successful business development through M&A in four years of the previous medium-term plan led to expanding IT software domain.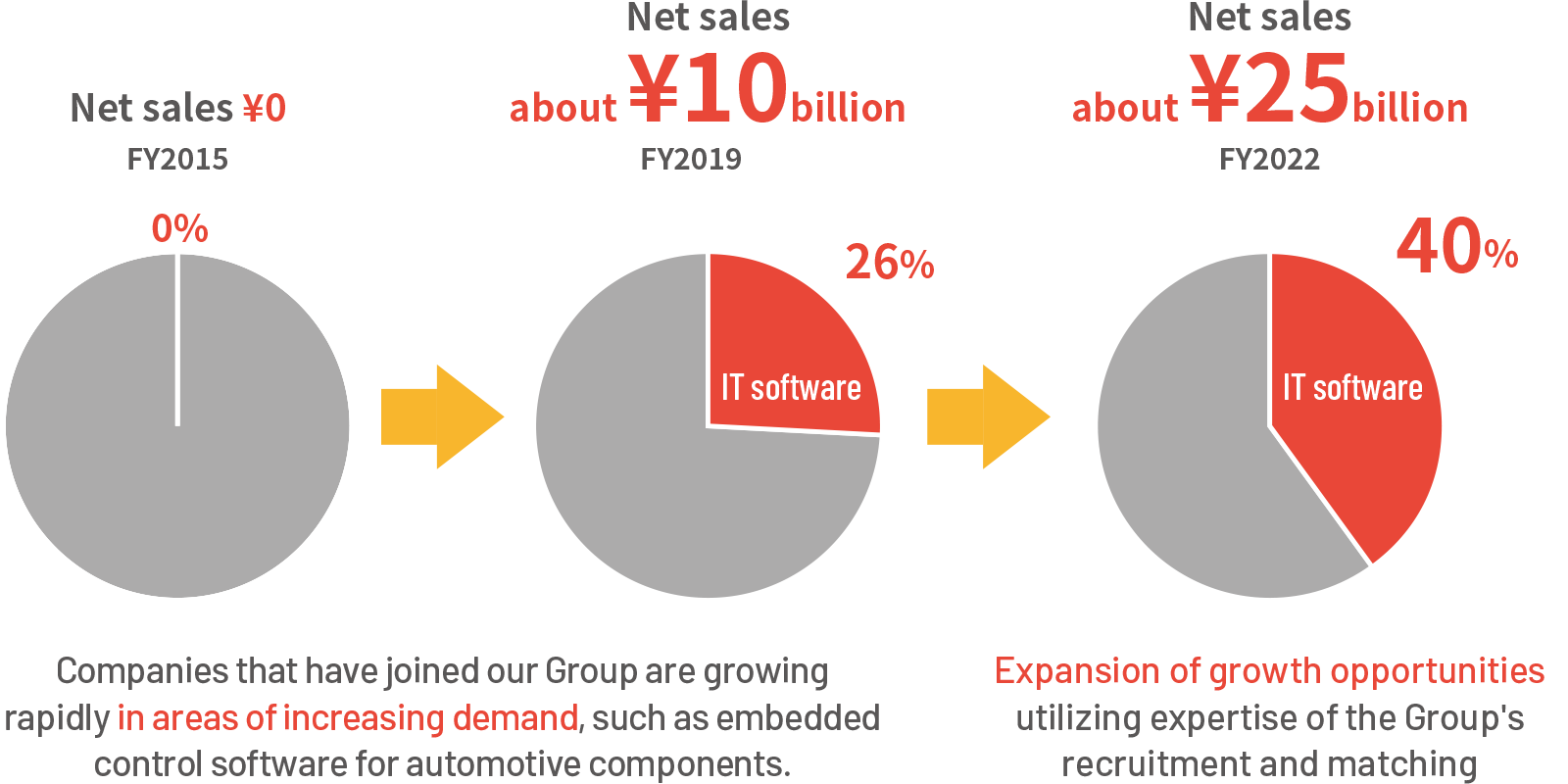 Incorporate engineers' growth and training cycles into business model.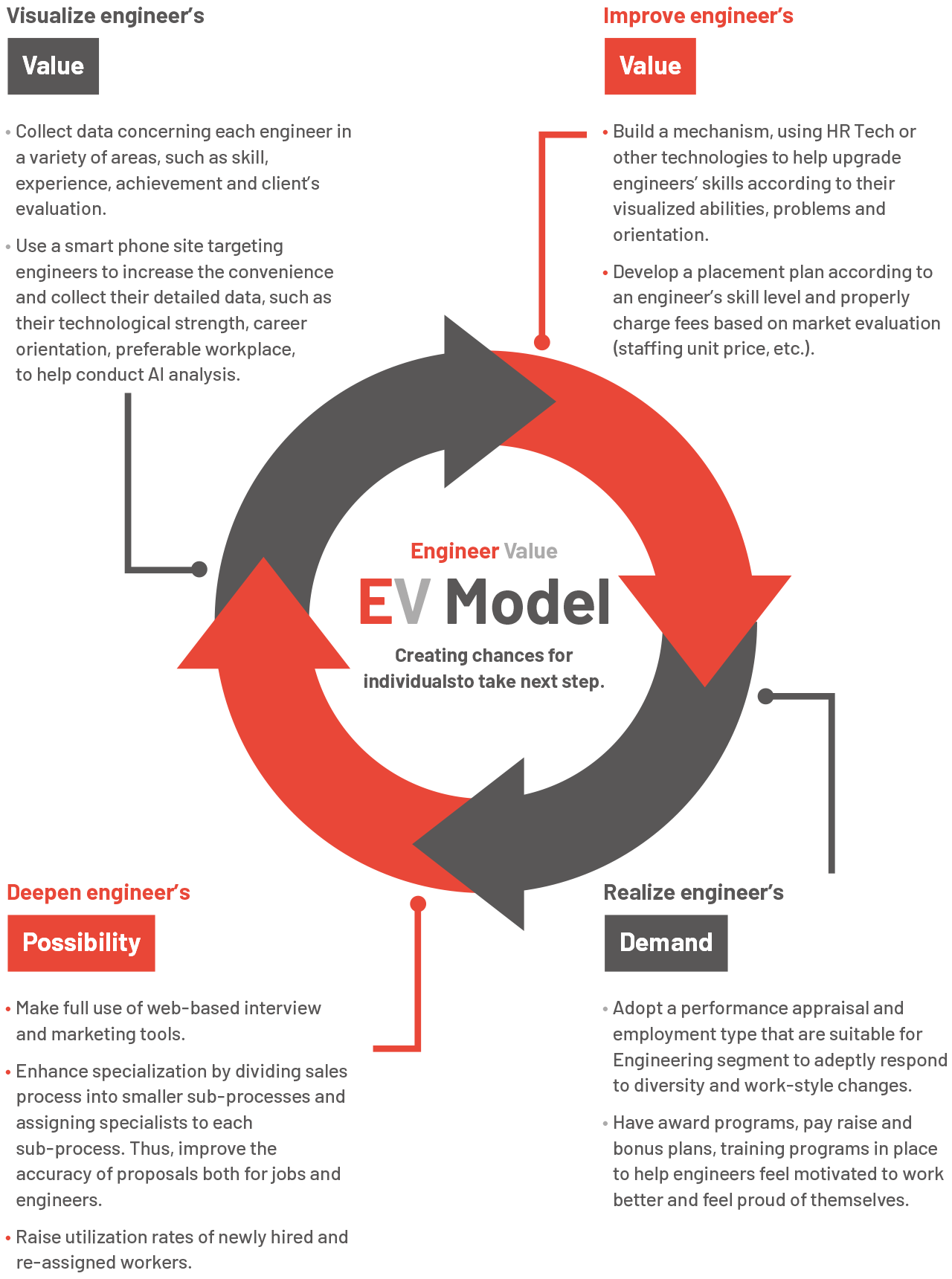 Enhancement of M&A and
Business Tie-up
Take over growth strategy of the previous
Mid-term Plan
Focus on M&A in Engineering segment
By introducing know-hows such as engineers' recruitment and matching at an early phase, it is possible to proceed to an organic growth phase after M&A.
Through business tie-ups and investment, expand business in growing areas of new technologies or new industries with growing demand for engineers. Be involved in open innovations for next generations, including HR Tech and other technologies designed to help engineers to get hired and upgrade their skills.
Based on good financial positions, raise a credit line from financial institutions. Use it to pay back interest bearing debts and increase funding flexibility.

M&As enable us to achieve
the Mid-term Plan
targets ahead of time.
Branding
The company name was changed* in January 2020 when a holding company system was adopted.*
* After approved by the Shareholders' General Meeting to be held on September 2019.
Rename the brand to "BeNEXT" which expresses future-oriented mindset.
Raise the brand awareness among both job-seeking engineers and prospective job seekers and thus increase recruiting and utilization rates.
Targeting engineers from those with little work experience to those seasoned, aim to be a business group willing to move up to the "NEXT" level.